Cardiac Surgery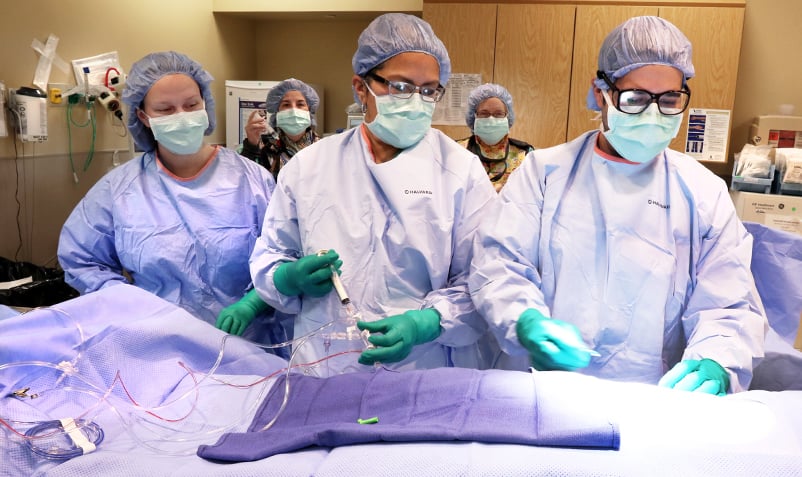 Waterbury Hospital offers open heart surgery for our patients. Cardiac and cardiothoracic surgeons perform surgery to treat heart failure and coronary heart disease, fix heart valves that don't work well, control abnormal heart rhythms, and place medical devices. During open heart surgery, the chest is cut open and surgery is performed on the muscles, valves, or arteries of the heart.
The cardiac surgery services offered at Waterbury Hospital include:
Carotid Stenting – increases blood flow in areas blocked by plaque. A slender, metal-mesh tube, called
a stent, is inserted and expands inside your carotid artery.
Coronary artery bypass grafting (CABG) - the most common type of heart surgery done on adults. During this surgery, a healthy artery or vein is grafted (attached) to a blocked coronary (heart) artery. This allows the grafted artery to "bypass" the blocked artery and bring fresh blood to the heart.
Valve surgery – surgery to repair or replace heart valves, which allows blood to travel through the heart.
Our "One-Stop" Approach for Cardiac Surgery Patients
In keeping with our promise that patients are the center of all we do, Waterbury Hospital has a unique approach to help patients who have cardiac surgery recover and return to their lives more quickly. Directly after surgery, a patient goes to a bed in the Cardiovascular Unit (CVU) and this is where he or she will stay for the full course of recovery. This unit has specially trained nurses and advanced practice nurses who have in-depth knowledge and expertise about cardiac care and develop a close rapport with patients and their families.