Cardiology at Waterbury Hospital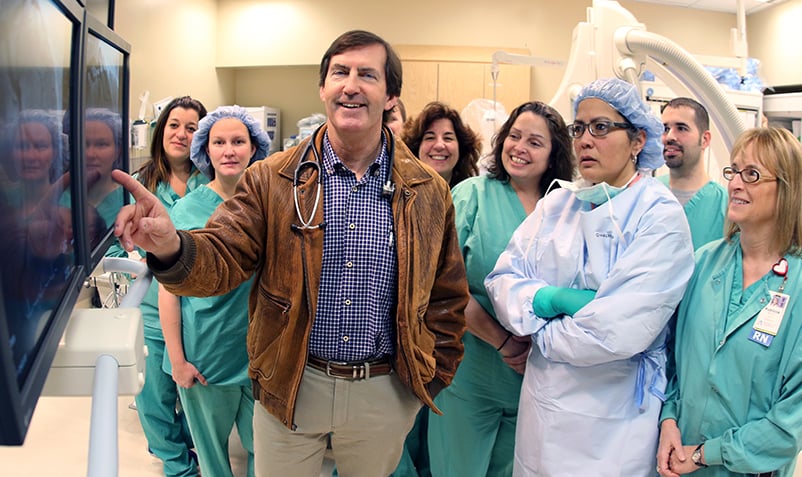 For more than 30 years, Waterbury Hospital and Waterbury HEALTH have been providing world class cardiology care, right here at home. Our multi-disciplinary team of cardiac specialists employs a proactive approach for prevention, diagnosis, and treatment of heart disease that is patient-centered and evidence-based. We provide convenient, local access to a wealth of resources and the latest, most sophisticated treatments to help patients return to a healthy, active life.
Our Services
Our state-of-the-art cardiac services include: diagnostic testing, interventional treatments, cardiac surgery, and cardiopulmonary rehabilitation.
Waterbury Hospital has a very unique, patient-centered model of post-operative care for open heart surgery patients—one stop post-op care. Following surgery, cardiac surgery patients go directly to the Cardiovascular Unit, managed by specially trained nurses and doctors, where they stay in the same bed, in the same unit throughout their recovery. This is one more way we fulfill our promise to our patients by bringing innovative, world class care to our community.
Our services are constantly evolving to take advantage of the latest technology and to continually strengthen care for patients.
Our Excellence in Care
Waterbury Hospital meets and exceeds measures for quality and excellence in cardiac care. And, we excel in emergencies where every second matters. For example, we are high performers for the time it takes in an emergency for a patient to go from the ER to the catheterization lab to open a blocked artery.
Waterbury Hospital is designated a Blue Distinction Center+ for Cardiac Care Services by Anthem Blue Cross and Blue Shield. This distinction recognizes our hospital for expertise in cardiac care and the efficient delivery of high quality cardiology services.
Our People
Our comprehensive cardiology services are delivered by highly skilled professionals including:
Board-certified cardiologists and cardiothoracic surgeons from some of the best training programs in the country
Registered Nurses, including specially trained nurses for post-operative care
Advanced Practice Registered Nurses
Invasive and non-invasive cardiopulmonary technicians
Exercise specialists
Respiratory therapists and technicians
Registered echocardiography technicians
Nuclear medicine technicians
EKG technicians
This team of compassionate caregivers provides leading edge services in a highly personal, multi-cultural and supportive environment for patients and their families.
Cardiology Services at Waterbury HEALTH