Heart and Valve Center at Waterbury Hospital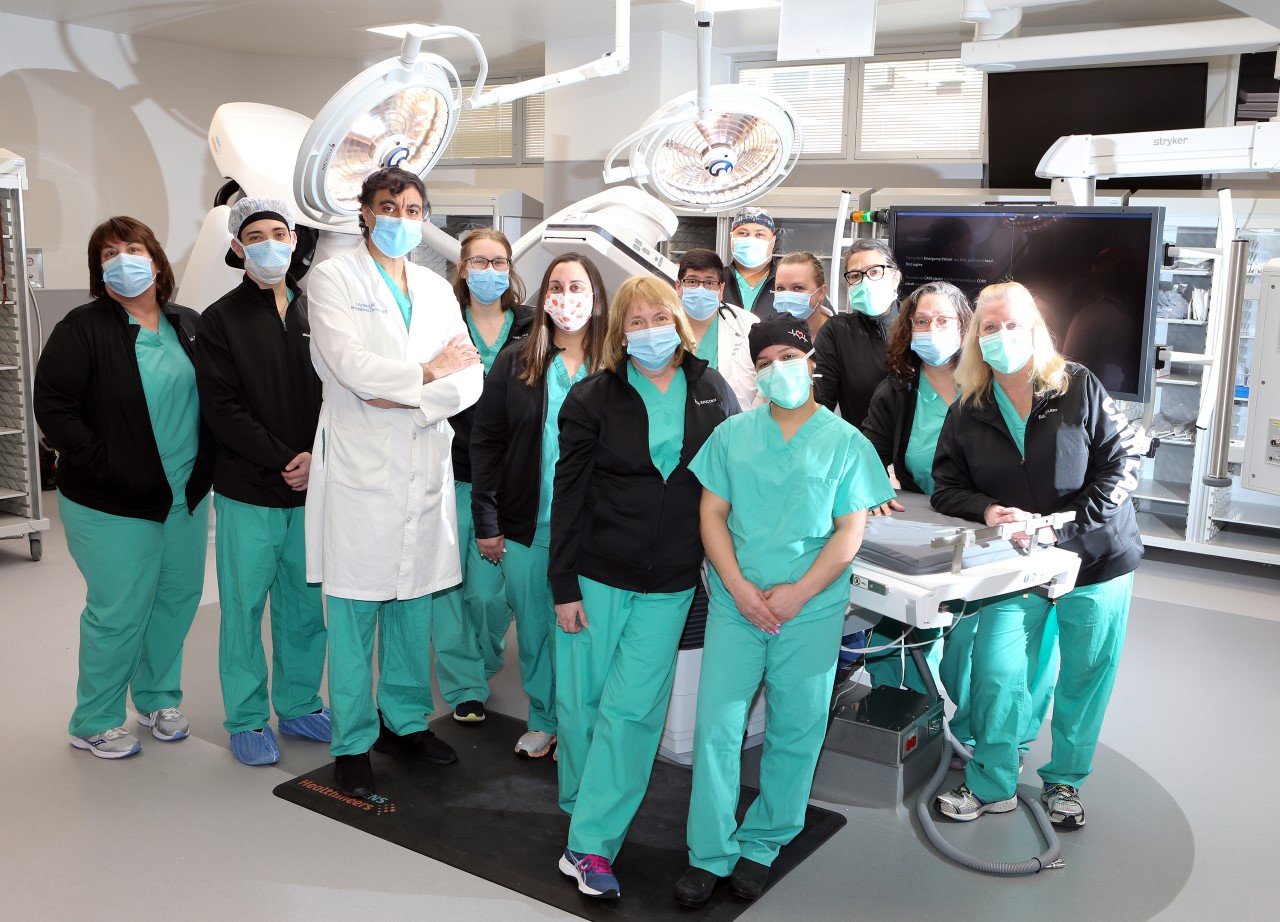 For more than 30 years, Waterbury Hospital has been providing world-class cardiology care, right here at home. The Heart and Valve Center offers the Greater Waterbury community patient-centered, evidence-based care for any heart-related needs.
Our multi-disciplinary team of cardiac specialists takes a proactive approach for the prevention, diagnosis, and treatment of heart conditions. We provide convenient, local access to a wealth of resources and the latest, most sophisticated treatments to help our patients return to a healthy, active life.
The Heart and Valve Center at Waterbury Hospital works in conjunction with the Cardiology Associates of Greater Waterbury (CAGW) to provide our patients with a comprehensive set of cardiac services that cover every stage of care. Waterbury Hospital has been designated a Blue Distinction Center+ for Cardiac Care® by Anthem Blue Cross and Blue Shield, which recognizes our commitment to quality care that results in better overall outcomes for cardiac patients.
We offer a broad range of cardiac care services, including inpatient cardiac care, cardiac rehabilitation, and cardiac catheterization. For more information about The Heart and Valve Center at Waterbury Hospital or to make an appointment, please call (203) 573-7264.
Cardiac Rehabilitation: A medically supervised program designed to improve your cardiovascular health if you have experienced heart attack, heart failure, angioplasty, or heart surgery. Cardiac rehabilitation can stabilize, slow, or even reverse the progression of underlying heart problems.
Coumadin® Clinic: Our Coumadin® or anticoagulation clinic offers a simple, convenient way to monitor and assist patients taking blood-thinning medication to prevent any complications. It is staffed by nurses and licensed nurse practitioners under the direction of cardiologists. It is located at the Cardiology Associates of Greater Waterbury.
Diagnostic Testing: We perform routine and complex diagnostic procedures to evaluate cardiovascular health in order to identify any issues that may require treatment. Diagnostic testing is available at both CAGW's Cardiac Diagnostic Center and The Heart and Valve Center on the hospital's main campus.

Transthoracic echocardiogram (TTE): Obtains views of the heart by moving a handheld device called a transducer that sends sound waves to different locations on the chest or abdominal wall.
Transesophageal echocardiogram (TEE): Takes more detailed pictures of the heart's structures and valves with a sound wave transducer that goes into the esophagus.
Stress testing: Shows how well the heart works during physical activity. We offer several types of stress testing, including treadmill only, treadmill with nuclear imaging to measure blood flow to the heart muscle, pharmacological testing with nuclear imaging for patients who can't use a treadmill, and stress testing (treadmill or pharmacological) with echocardiogram to provide imaging of the heart during exercise.
Carotid ultrasound: Imaging test that uses high-frequency sound waves to create pictures of the inside of the carotid arteries.
Multigated acquisition (MUGA) scan: Diagnostic test to evaluate the pumping function of the ventricles or lower chambers of the heart.
Holter monitor: Battery-operated portable device that measures and records heart activity continuously for 24 hours or longer.
Event/loop monitor: Controllable device about the size of a pager that records the electrical activity of the heart for long-term monitoring of symptoms.
Implantable cardiac monitor: The Reveal LINQ insertable cardiac monitor is a wireless and small insertable device for patients experiencing infrequent symptoms that require long-term monitoring or ongoing management.
Cardiac positron emission tomography (PET): Nuclear imaging test that uses radioactive tracers to produce pictures of the heart for diagnosis of coronary artery disease (CAD) and damage due to heart attack. Cardiac PET can also be used to help find out whether patients will benefit from certain cardiac interventions.
Cardiac magnetic resonance imaging (MRI): Imaging test that uses a magnetic field and radio frequency waves to create detailed pictures of the heart and blood vessels. Cardiac MRI can show the heart's structure and how well blood flows through the heart and major vessels to see damage from a heart attack or other conditions.
Electrophysiology: These kinds of studies test the electrical activity of the heart to find out where an arrythmia (abnormal heartbeat) is coming from. The results help the doctor decide whether patients need medicine, surgery, or an implantable device. They take place in an electrophysiology lab or a catheterization lab at The Heart and Valve Center on the hospital's main campus.

Pacemaker insertion: Device placed in the chest or abdomen that helps to control abnormal heart rhythms with electrical pulses to prompt the heart to beat at a normal rate.
Internal cardiac defibrillator (ICD): Battery-powered device placed under the skin that keeps track of heart rate and will deliver an electric shock to restore a normal heartbeat if it is beating chaotically and too quickly.
Biventricular pacemaker: Battery-powered pacing device placed under the skin that fires electrical impulses to the heart muscle if heart rate drops below a set rate. Part of cardiac resynchronization therapy (CRT) used to treat the delay in heart contractions that occur in some patients with advanced heart failure.
Pacemaker clinic: CAGW's pacemaker clinic ensures that patients with implanted devices receive the regular monitoring and adjustments they need.
General Cardiology: Our highly trained providers specialize in all aspects of general cardiology, including preventative cardiology, coronary disease, chest pain, and arrythmia.

Hospital consults
New patient referrals
Preoperative clearance
Management of chronic heart conditions
Heart Failure: More than 6 million adults in the U.S. have heart failure, a condition that occurs when the heart cannot pump enough blood and oxygen to support other organs in the body. The Heart and Valve Center specializes in treating patients with heart failure, which responds well to treatment when detected early on.

Inpatient care: Solutions for managing heart failure include medication and cardiac procedures such as angioplasty, heart valve replacement, and coronary bypass procedures. Implanted devices such as pacemakers and internal cardiac defibrillators may also help heart function.
Outpatient clinic: Provides heart failure patients with comprehensive risk assessments, educational opportunities, and self-management tools to help maximize quality of life.
Pulmonary artery pressure monitoring: The CardioMEMS™ (cardio microelectromechanical heart failure system) sensor is a heart failure monitoring system that has been proven to significantly reduce hospital admissions and improve the quality of life for patients. We offer qualified patients the option to implant the CardioMEMS™ system, which remotely measures pulmonary artery pressure to indicate early signs of worsening heart failure.
Interventional Cardiology: The Heart and Valve Center at Waterbury Hospital provides patients with the option to undergo non-surgical or minimally invasive procedures to treat cardiovascular disease when possible. Our interventional cardiologists use diagnostic techniques along with technical procedures and medications to treat heart conditions.

Cardiac catheterization: Procedure that inserts a thin tube into a large blood vessel leading to the heart in order to examine how well the heart is working. Along with right and left heart catheterization, we offer percutaneous coronary intervention (PCI), also known as coronary angioplasty. This non-surgical procedure improves blood flow to the heart by inflating a balloon in a blocked artery.
Transcatheter aortic valve replacement (TAVR): Minimally invasive procedure to treat aortic stenosis, a type of heart valve disease, that inserts a new valve by placing it inside the old, damaged valve.
Heart pump: The Impella® ventricular support system is designed to help pump blood in patients who require short-term assistance. The device, which is small enough to pass through a catheter, can help those with severe heart failure.
Intra-aortic balloon pump (IABP): Device consisting of a thin, flexible tube with a long balloon at the end that helps the heart pump more blood. IABP therapy is used to treat cardiogenic shock, which occurs when the heart can't pump enough blood to meet the needs of the body.
Contact Information:
The Heart and Valve Center at Waterbury Hospital
64 Robbins St.
Waterbury, CT 06708
(203) 573-7264
Cardiology Associates of Greater Waterbury
455 Chase Parkway
Waterbury, CT 06708
(203)-573-1435