Breastfeeding Support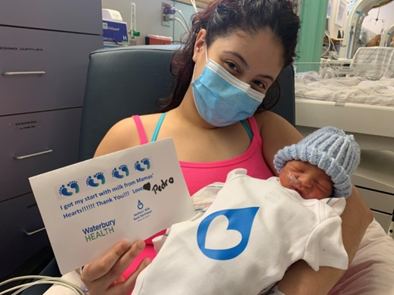 Breastfeeding has many benefits for babies, including protecting against childhood obesity and other illnesses. The American Academy of Pediatrics recommends babies be fed nothing but breast milk for about the first six months of life with the addition of complementary solids and continued breastfeeding until at least the baby's 1st birthday.
Resources to learn about breastfeeding during pregnancy and hands on support after delivery will help mothers to meet their breastfeding goals. Our team of experienced, compassionate lactation consultants look forward to working with you.
Our comprehensive range of services for breastfeeding support include:
Prenatal support: During pregnancy, speak with your provider and partner about how you plan to feed your baby. You have many options to learn about breastfeeding such as taking a class, speaking to a lactation professional, attending a mothers' group, reading books, or watching videos online. Our team is available to support you with any of these options.
Postpartum support: You will meet with one of our lactation consultants after delivery in your postpartum room. Lactation consultants visit with patients to answer any questions, offer assistance, and help develop feeding care plans.
Donor milk: We are proud to partner with Mothers' Milk Bank Northeast to offer pasteurized donor milk to babies born at Waterbury Hospital. Donor milk is recommended as a way to supplement babies if needed during their stay. We offer donor milk to both babies admitted to the NICU and well babies. We even have a Donor Milk to Go Program that allows families to purchase donor milk to use for a short period at home if they should need it.
Post-discharge support: Sometimes breastfeeding can feel overwhelming once you and your partner are finally home with your new baby. Waterbury Hospital's Family Birthing Center has a dedicated Lactation Line (203-573-7697) to call with questions about breastfeeding. There is no expiration date to ask for help, so feel free to call us for advice about returning to work and pumping, teething, or when to wean.
Breastfeeding Resources
Link to Mom Squad Registration-New Mom Support Group offered in person on the Family Birthing Center on the 1stand 3rd Wednesdays of the month.
Droplet – Provides educational, how-to videos on the most effective breastfeeding techniques in order to prevent common challenges
Global Health Media's Breastfeeding Series – Set of "show-and-tell" videos that follow current breastfeeding standards, reviewed by a team of lactation content experts
KellyMom – Website dedicated to helping moms with breastfeeding and parenting in general
La Leche League – International organization with a mission to help mothers worldwide to breastfeed through mother-to-mother support, encouragement, information, and education
Mothers' Milk Bank Northeast – A nonprofit community milk bank accredited by the Human Milk Banking Association of North America that provides pasteurized donor human milk to babies throughout the Northeastern U.S.
For more information about our breastfeeding support please call (203) 573-7697.