Hospital to Home Program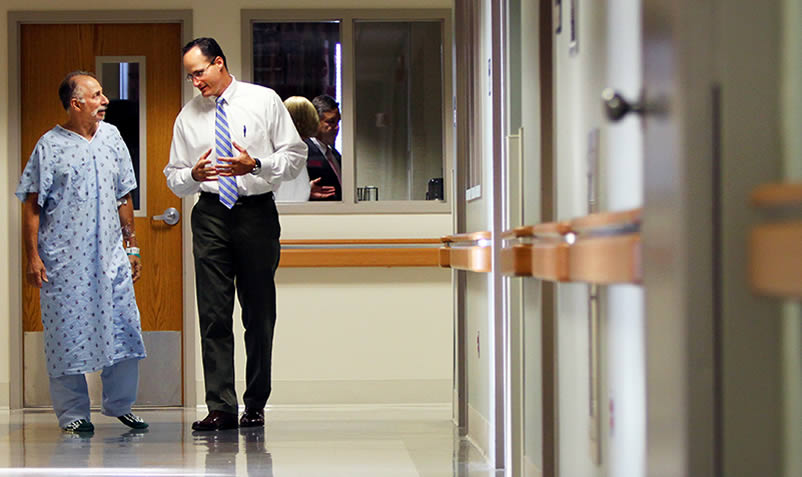 For more information, please discuss our program with your suggestion or call the Joint Replacement Center at Waterbury Hospital, (203) 573-7677.
Many of our patients will go directly home after their Total Hip or Total Knee Replacement. The Hospital to Home Program has been designed with our patients' safety and comfort in mind, helping to ensure a successful recovery and a smooth transition home. This is a collaborative program offered to you by Waterbury Hospital's Joint Replacement Center, Access Rehab Centers and other rehabilitation partners, and VNA Health at Home.
Please discuss this option with your surgeon.
Here's how the program works.
Before surgery:
Patients attend our Joint Replacement Class at Waterbury Hospital. During this class, patients will meet the members of our TeamOrtho and learn more about their surgery and hospital stay.
A physical therapist will come out to the patient's home to provide instructions for exercises essential to the individualized post-operative rehabilitation program. The therapist will also provide tips to get a patient's home ready for after the joint replacement. Any necessary equipment will be delivered and tested.
In the hospital:
Patients meet their case manager and VNA Health at Home liaison who will coordinate their return to home.
For patients who are returning directly home:
A physical therapist will come to the home on discharge day to review the plan with and help the patient settle in.
A physical or occupational therapist will visit a patient's home seven days the first week after surgery, and five days the second. They will help patients transition to an outpatient therapy program.
A nurse will also visit a patient's home periodically to check vital signs and the surgical site and answer any questions about medication and recuperation.