Women's Health Program Navigator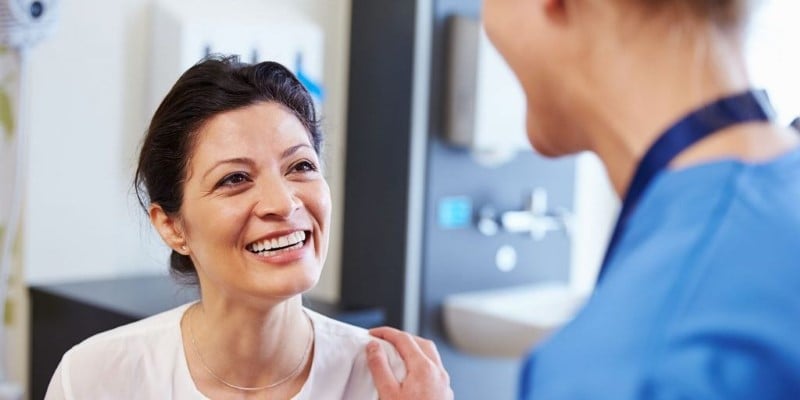 Sandra Micalizzi RN, MSN,CDEis a personal healthcare navigator who makes healthcare easier for women in the Greater Waterbury community. When you're searching for a new doctor or have questions about your health, you might reach out to a trusted friend for advice. Through free and confidential care navigation services, Sandy can provide local women with expert assistance in coordinating and managing all of you and your family's healthcare needs.
Personalized health navigation is an integral part of our Women's Health Program which provides women in the Greater Waterbury Area with a trusted ally to lean on as they navigate healthcare needs. The women's health navigator is a specially trained registered nurse who guides women through their healthcare journey such as appointments, testing and treatments, identifying resources, finding specialists, and information on wellness and preventative screenings.
Sandy has an extensive knowledge around woman's health, promoting wellness, disease prevention, and chronic disease management. Sandy is also in certified in geriatrics and diabetes.
As a long-time educator and community outreach coordinator, Sandy has reached thousands of women in the community with guidance on healthy living, health promotion, and disease management.
Sandy brings to the Women's Health Program her wealth of knowledge in healthcare, her experience as a registered nurse and educator and her ability to develop trusting long lasting relationships.
As a mother, wife and grandmother, Sandy understands only too well the important role women play as nurturers and caregivers for their families. Studies have shown that 85 percent of women make healthcare decisions for themselves and their families, so the relationship built with a woman often extends to several generations in a family.
"You have a different wisdom and perspective as part of this generation that only comes from living it," says Sandy. "As a woman, a healthcare worker and educator, I understand it only too well and I can use all of my experience to help other women."
Sandy's education and career:
Sandy's experience includes working as an advance practice nurse and certified in diabetes and geriatrics.
Sandy has also served as the Clinical Nurse Specialist for the Heart Center of Greater Waterbury a joint venture between Waterbury Hospital and Saint Mary's Hospital. She continued her role as a community educator for both hospitals focusing on educating residents of Greater Waterbury on diabetes, health and wellness and chronic disease management.
Sandy holds a Master's Degree in Nursing from Southern Connecticut State University, a Bachelor's Degree in Nursing from Western Connecticut State University.