Waterbury HEALTH Keeps Patients Informed With Live Video Series
FOR IMMEDIATE RELEASE For more information
Sept. 11, 2020 Contact: Lauresha Xhihani
203.573.6717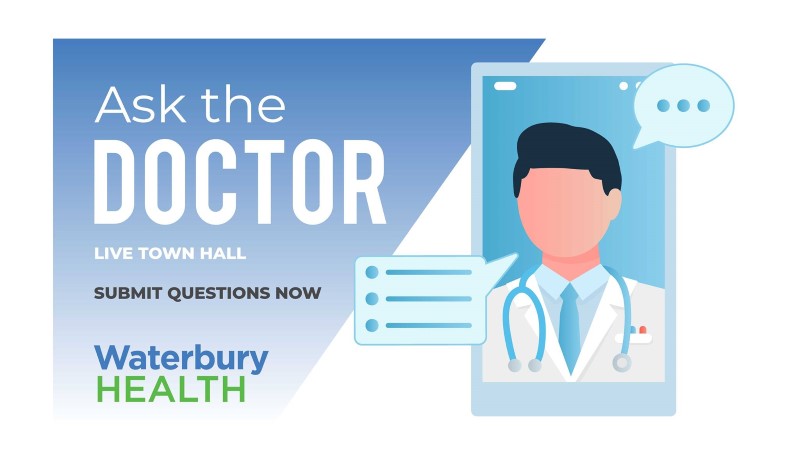 WATERBURY, Sept. 11, 2020 ― Waterbury HEALTH has launched "Ask the Doctor," a live informational series that connects doctors of different specialties with the community to answer questions about a variety of topics and address concerns regarding changes in care due to COVID-19. The Facebook Live event is held every other Thursday and is hosted by Chief Medical Officer Dr. Justin Lundbye.
"With the coronavirus pandemic, we realized that the community had questions not just about COVID-19 and its impact, but basic questions like 'How do I see my doctor? or 'Is it safe to get surgery?' This series gives members of Waterbury Health's medical staff an opportunity to answer these questions and to address specific concerns related to a diagnosis or disease in their area of expertise," said Dr. Justin Lundbye.
Facebook Live sessions are held from noon to 1 pm twice a month on Thursdays. Here are the sessions that are scheduled over the next few months:
Sept. 24 at noon, Interventional Cardiology and Cardiac Surgery with Dr. Stephen Widman, Interventional Cardiologist and Dr. Daniel Fusco, Cardiac Surgeon
Oct. 8 at noon, Robotic Surgery vs. Traditional Methods with members of the Robotic Surgery Team, Waterbury Hospital
Oct. 22 at noon, Breast Cancer with Dr. Elizabeth Riordan, Breast Surgeon, Dr. Anamika Katoch, Oncologist
Nov. 5, at noon, Keeping Healthy in Late Life with Dr. Yuliya Riat, Director of Geriatric Services
Nov. 19 at noon, Gastric and Digestive Problems with Dr. Anthony Schore, Gastroenterologist
The series will continue after these dates.
Members of the community should submit their questions to the Waterbury Hospital Facebook Page administrators (@waterburyhospital) or can submit them live during the event.
For more information go to: waterburyhospital.org.
About Waterbury HEALTH.
Waterbury HEALTH ,which includes Waterbury Hospital, Alliance Medical Group, Cardiology Associates, VNA Health at Home, Greater Waterbury Imaging Center and Access Rehab Centers, offers comprehensive healthcare services including primary care, emergency and acute care, and home healthcare. Serving Waterbury and 11 surrounding communities in Western Connecticut, Waterbury HEALTH is a member of Prospect Medical Holdings Inc., a national family of hospitals and healthcare networks.