Waterbury Hospital Receives Get With The Guidelines Gold Achievement Award
FOR IMMEDIATE RELEASE For more information
Aug. 10, 2020 Contact: Lauresha Xhihani
203.573.6717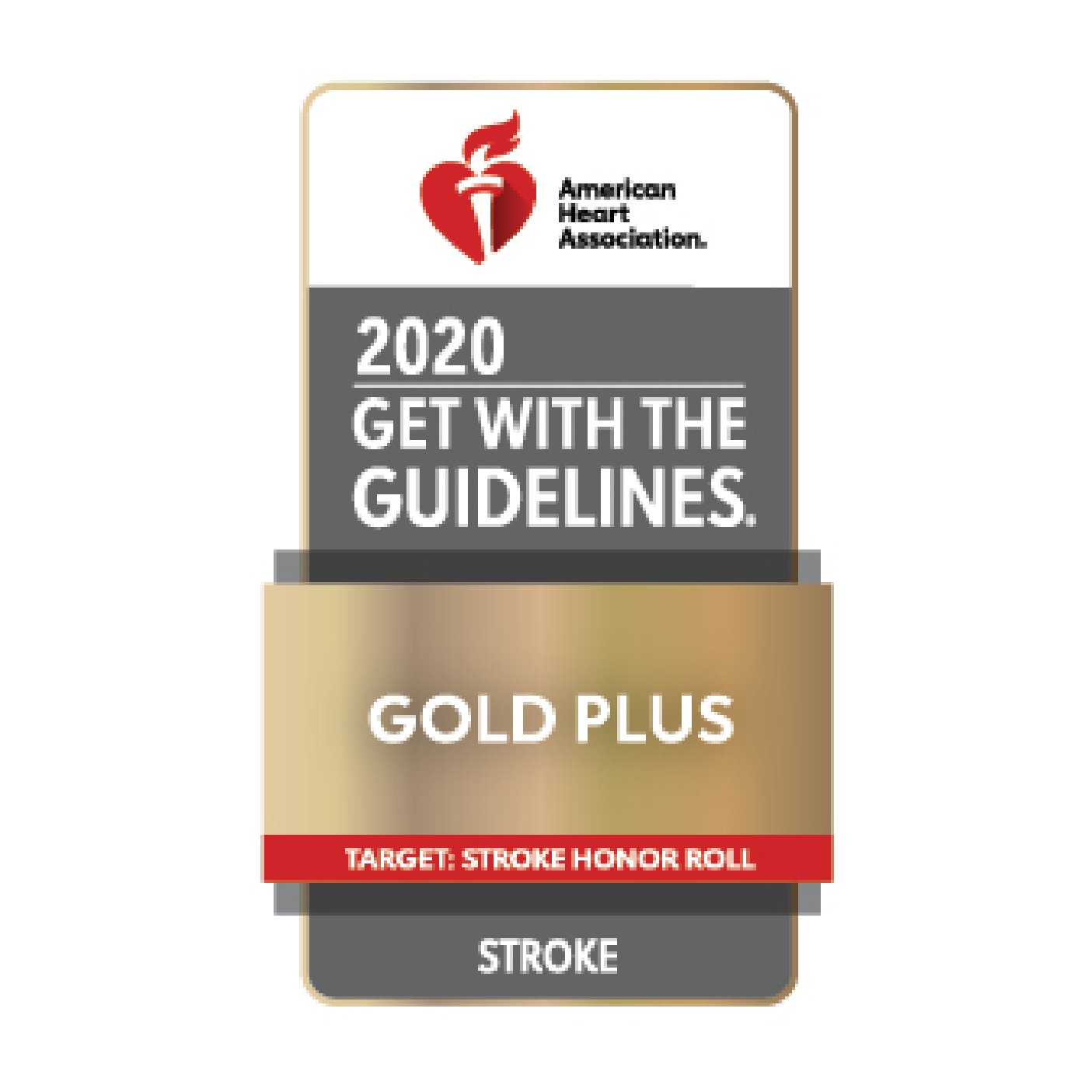 WATERBURY, Aug. 10, 2020 ― Waterbury Hospital has received the American Heart Association/American Stroke Association's Get With The Guidelines®-Stroke Gold Plus & Target: Stroke Honor Roll Award. The award recognizes the hospital's commitment to ensuring stroke patients receive the most appropriate treatment according to nationally recognized, research-based guidelines based on the latest scientific evidence.
Waterbury Hospital earned the Gold Plus award by meeting specific quality achievement measures for the diagnosis and treatment of stroke patients at a set level for a designated period. These measures include evaluation of the proper use of medications and other stroke treatments aligned with the most up-to-date, evidence-based guidelines with the goal of speeding recovery and reducing death and disability for stroke patients. Before discharge, patients should also receive education on managing their health, get a follow-up visit scheduled, as well as other care transition interventions.
"Our continued achievement in the Get with the Guidelines Program are a testament to the dedication of our doctors, nurses and staff to quality stroke care for our patients," said President and CEO Lester Schindel.
According to the American Heart Association/American Stroke Association, stroke is the number five cause of death and a leading cause of adult disability in the United States. On average, someone suffers a stroke every 40 seconds; someone dies of a stroke every four minutes; and 795,000 people suffer a new or recurrent stroke each year.
About Get With The Guidelines®
Get With The Guidelines® is the American Heart Association/American Stroke Association's hospital-based quality improvement program that provides hospitals with tools and resources to increase adherence to the latest research-based guidelines. Developed with the goal of saving lives and hastening recovery, Get With The Guidelines has touched the lives of more than 6 million patients since 2001. For more information, visit heart.org.
About Waterbury HEALTH
Waterbury HEALTH which includes Waterbury Hospital, Alliance Medical Group, Cardiology Associates, VNA Health at Home, Greater Waterbury Imaging Center and Access Rehab Centers, offers comprehensive healthcare services including primary care, emergency and acute care, and home healthcare. Serving Waterbury and 11 surrounding communities in Western Connecticut, Waterbury HEALTH is a member of Prospect Medical Holdings Inc., a national family of hospitals and healthcare networks.