Waterbury Hospital Surgeon on 21st Medical Mission to Liberia
For more information contact
Lauresha Xhihani
Lauresha.Xhihani@wtbyhosp.org
203.573.6717
FOR IMMEDIATE RELEASE For more information
Friday, February 28, 2020 Contact: Lauresha Xhihani
Lauresha.Xhihani@wtbyhosp.org,
203.573.6717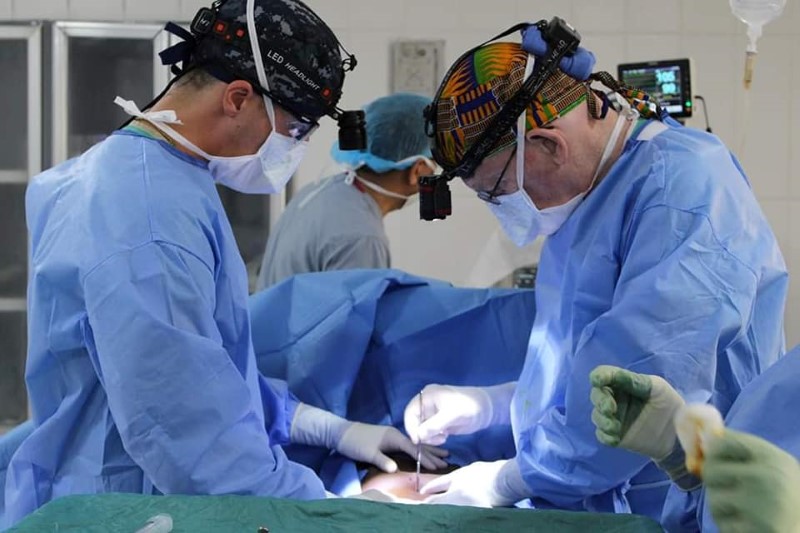 WATERBURY, Conn. – February 28, 2020 – Dr. David Knight a Waterbury Hospital surgeon begins his 21st medical mission to Liberia on Saturday.
Dr. Knight and doctors Sepehr Kamini and Mohammad Ali, surgical residents at Waterbury Hospital, will spend two weeks performing surgeries and teaching medical residents and students at John F. Kennedy Medical Center and Hospital, the main hospital in Liberia. The doctors are part of a larger mission that includes Dr. Santiago Arruffat and Samantha Schultz. Dr. Arruffat is a former Waterbury Hospital surgical resident now practicing in Illinois.
Waterbury HEALTH is donating surgical supplies that will be used during this medical mission.
The medical mission is sponsored by the HEARTT (Health Education and Relief Through Teaching) Foundation. The non-profit organization's programs focus on improving health services and training the next generation of local practitioners. Liberia's health care system was weakened by 15-years of civil wars and it has taken years to rebuild.
"We take so many things for granted," said Dr. Knight. "In Liberia they lack the basics."
The work of the HEARTT Foundation and the Support JFK Fund, which Dr. Knight has helped found and support, Liberia will have its first fellowship trained ear, nose and throat doctor and soon a fellowship trained orthopedic surgeon. Last year JFK Hospital, the main hospital in the country of 4.7 million people, added a pathology lab.
Dr. Knight completes two medical mission to Liberia each year often accompanied by medical residents of Waterbury Hospital, with supplies for those missions donated by Waterbury Hospital.
For his work, Dr. Knight was awarded the medal of Knight Grand Commander in the Humane Order of African Redemption in 2014 by then Liberian President and Nobel Prize Winner Ellen Johnson Sirleaf.
As part of this trip, Dr. Knight will be attending a special ceremony on March 8, at the invitation of Sirleaf, to mark the unveiling of her presidential library.
Dr. Knight returns on March 14.
About Waterbury HEALTH
Waterbury HEALTH, which includes Waterbury Hospital, Alliance Medical Group, Cardiology Associates of Greater Waterbury, VNA Health at Home and Access Rehab Centers, Greater Waterbury Imaging Center, offers comprehensive healthcare services including primary care, emergency and acute care, and home healthcare. Serving Waterbury and 11 surrounding communities in Western Connecticut, Waterbury HEALTH is a member of Prospect Medical Holdings, Inc., a national family of hospitals and healthcare networks.