The Ultimate Knee Replacement Experience Comes to Waterbury Hospital with New Robotic-Assisted Surgical Option
FOR IMMEDIATE RELEASE
For more information
Aug. 3, 2021. Contact: Lauresha Xhihani
Lauresha.Xhihani@wtbyhosp.org,
203.573.6717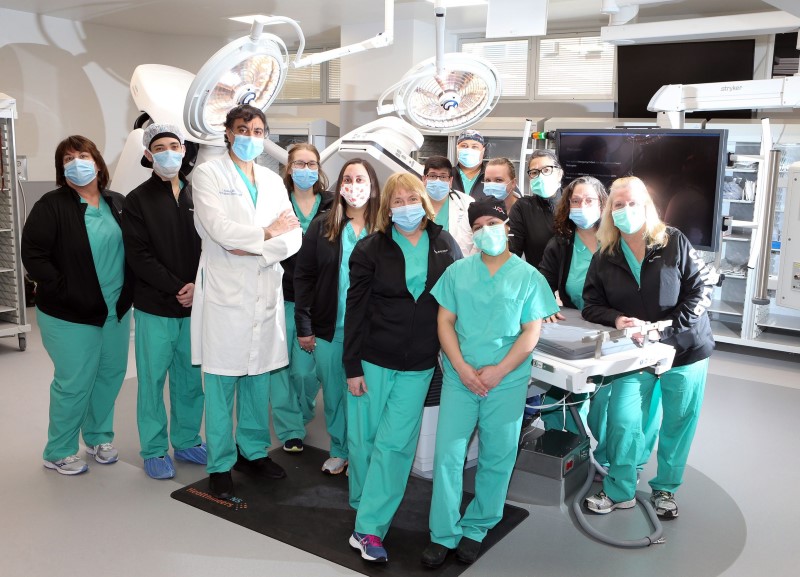 WATERBURY, Conn. – Aug. 3, 2021 –The American Academy of Orthopedic Surgeons estimates knee replacement surgeries are expected to increase a staggering 180% between now and 2030 in United States1. In Connecticut alone, an estimated 22 percent of adults over 25 are at high risk for osteoarthritis and may need surgical intervention.
A great number of patients are unaware of robotics-assisted procedures and recent advancements that have been made in the field of orthopedics.
"I tell the majority of my patients to forget everything they thought they knew about knee surgery," said Dr. William Flynn, orthopedic surgeon at Waterbury Hospital. "Within the last few years, the advancements in robotics-assisted knee surgery alone have been a game changer for my patients."
A recent survey conducted by global implant maker, Smith+Nephew and Kantar showed procedure fears and recovery time were the biggest concerns patients had about moving forward, but they expressed near unanimous interest in discussing robotics-assisted knee surgery with their physician.
Waterbury Hospital reached a significant milestone last month when Dr. William Flynn performed the first total knee replacement surgery using the CORI Surgical System.
Waterbury Hospital orthopedic surgeons have already performed several total knee replacement surgeries using the CORI Surgical System.
For more information on the procedure call the Waterbury Hospital Joint Replacement Center at 203-689-0080 or go to: https://waterbury.discovermorefearless.com/.
About Waterbury HEALTH
Waterbury HEALTH, which includes Waterbury Hospital, Alliance Medical Group, Cardiology Associates of Greater Waterbury, VNA Health at Home and Access Rehab Centers, Greater Waterbury Imaging Center, offers comprehensive healthcare services including primary care, emergency and acute care, and home healthcare. Serving Waterbury and 11 surrounding communities in Western Connecticut, Waterbury HEALTH is a member of Prospect Medical Holdings, Inc., a national family of hospitals and healthcare networks.
About the CORITM Surgical System Robot
Robotics-assisted knee replacement surgery using the CORITM Surgical System combined with the features and benefits of Smith+Nephew's implant portfolio can lead to the following patient benefits:
Quicker, smoother recovery2
Regain function faster and return home sooner3
A unique plan: We use 3D digital modeling to get a surgical plan customized to the patients' unique anatomy. This means our surgeon can perform the procedure more accurately than traditional knee replacement surgery.4,5
A natural fit: Using these technologies patients can keep more of their natural bone and ligaments, including the ACL. 6 That helps maintain more of a natural rhythm and step.7
A wide selection: Our surgeon is able to choose from the widest selection of implants available, so implants can be precision-matched to feel more like a patient's own knee.
—more—
References
American Academy of Orthopedic Surgeons. Projected volume of primary and revision otal joint replacement in the U.S. 2030 to 2060. https://aaos-annualmeeting-presskit.org/2018/research-news/sloan_tjr/. Updated March 6,2018. Accessed August 5, 2020.
Based on JOURNEY II family of implants. Mayman DJ, Patel AR, Carroll KM. Hospital related clinical and economic outcomes of a bicruciate knee system in total knee arthroplasty patients. Poster presented at: ISPOR Symposium; May 19-23, 2018; Baltimore, Maryland, USA.
Based on UKA surgery. Shearman AD, et al. EKS Arthroplasty Conference. May 2-3, 2019; Valencia, Spain.
Batailler C, White N, Ranaldi FM, Neyret P, Servien E, Lustig S. Improved implant position and lower revision rate with robotic-assisted unicompartmental knee arthroplasty. Knee Surg Sports Traumatol Arthros. 2019;27(4):1232-1240
Gregori A, Picard F, Lonner JH, Smith JR, Jaramaz B. Accuracy of Imageless Robotically Assisted Unicondylar Knee Arthroplasty. International Society for Computer Assisted Orthopaedic Surgery (CAOS) 15th Annual Meeting;2015; Vancover, Canada
Combination of CORI along with the JOURNEY II XR
Pritchett JW. Patients prefer a bicruciate-retaining or the medial pivot total knee prosthesis. J Arthroplasty. 2011;26(2):224-228
00225 V3 JOURNEY II Design Rationale 11/17
06791 V1 JOURNEY II XR Design Rationale 10/17
https://portal.ct.gov/-/media/Departments-and-Agencies/DPH/dph/state_health_planning/dphplans/arthritisactionplan2002pdf.pdf?la=en
Individual results may vary. Individual results may vary. There are risks associated with any surgical procedure including CORI-enabled Knee Replacement. The CORI Surgical System is not for everyone. Children, pregnant women, patients who have mental or neuromuscular disorders that do not allow control of the knee joint, and morbidly obese patients and patients contraindicated for UKR, PFA and TKA should not undergo a CORI procedure. Consult your physician for details to determine if surgery using the CORI Surgical System is right for you.