Waterbury Hospital Expands Its Award-Winning Cardiovascular Program with New, State-of-the-Art Valve Replacement Technology and Procedure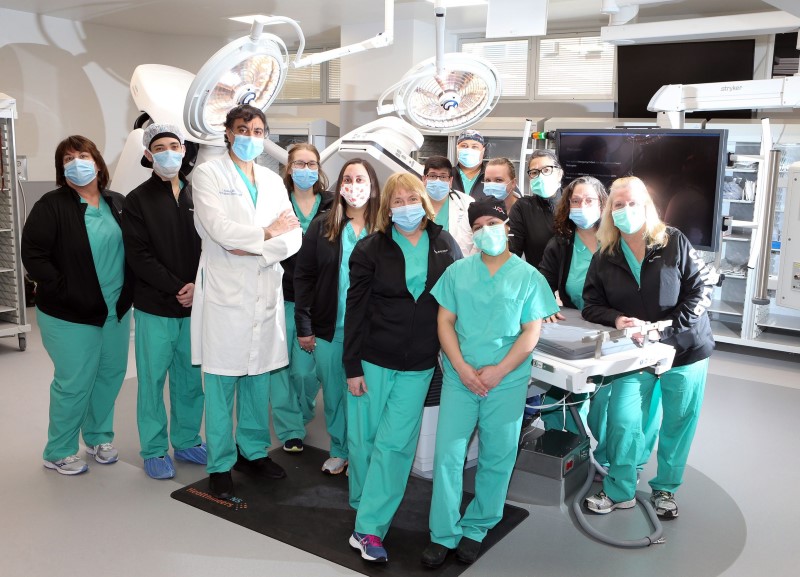 For more information
May 25, 2021. Contact: Lauresha Xhihani
Lauresha.Xhihani@wtbyhosp.org,
203.573.6717
WATERBURY, Conn. – May 25, 2021 – Waterbury Hospital has expanded its award-winning cardiovascular program with the addition of an advanced, less-invasive surgical procedure to repair damaged aortic valves. The hospital is the only one in the greater Waterbury area to offer this surgical alternative to traditional open-heart surgery – known as transcatheter aortic valve replacement (TAVR) – for people with severe aortic stenosis, a potentially fatal condition in which the opening of the aortic heart valve narrows, blocking the flow of blood to the body.
A new state-of-the-art robotic machine – the ARTIS pheno made by Siemens – allows physicians performing the TAVR procedure at Waterbury Hospital to guide a replacement valve through a catheter into the patient's heart via a small incision in the patient's groin. The physician performs the procedure while the heart is still beating, using X-ray and echocardiography images projected on a computer screen as a guide. Traditional aortic valve replacement requires open-heart surgery, which involves stopping the patient's heart and placing them on an artificial heart-lung machine while the physician cuts through their breastbone to gain access to the heart.
"The beauty of the TAVR procedure is that patients are able to go home sooner and return to normal life within days, not months," said Ehsan Ansari, MD, a board-certified cardiologist at Waterbury Hospital and member of Cardiology Associates of Greater Waterbury, who brings his previous experience in Europe and at Yale New Haven and Hartford Hospital to the Waterbury Hospital program. "There's less morbidity with the TAVR procedure and less pain, because you don't have to crack the patient's chest wide open."
The TAVR procedure also presents a chance to potentially extend the lives of patients who are unable to undergo open-heart surgery because they have severe underlying conditions. "For most people with severe aortic stenosis, if you don't fix the valve, they cannot live more than a year," Dr. Ansari said. "Until now, we had no option to help people who were too ill to undergo open-heart surgery. With TAVR, we have an opportunity to help these patients live longer and have a better quality of life. And most importantly, we're now able to treat them with this advanced procedure right here in Waterbury, close to their home."
The TAVR machine is the latest addition to Waterbury Hospital's brand-new cardiac catheterization laboratory and hybrid operating room (OR), which is dedicated to a wide range of cardiovascular and other procedures. These include everything from open-heart surgery, angioplasty to the TAVR procedure, pacemaker implantation and many different types of diagnostic procedures.
"We are committed to being a premier heart center in our area," Dr. Ansari added. "This addition of the TAVR technology as well as the opening of our new cath lab and hybrid OR gives us the ability to diagnose and treat just about every kind of heart disease. The only thing we don't do is heart transplant."
Waterbury Hospital is designated a Blue Distinction Center+ for Cardiac Care Services by Anthem Blue Cross and Blue Shield. This distinction recognizes the hospital for expertise in cardiac care and the efficient delivery of high-quality cardiology services. Waterbury Hospital is the only hospital in Southern Connecticut to achieve a 5-star rating for Coronary Interventional Procedures in 2021 by Healthgrades, the leading resource that connects consumers, physicians and health systems.
About Waterbury HEALTH
Waterbury HEALTH, which includes Waterbury Hospital, Alliance Medical Group, Cardiology Associates of Greater Waterbury, VNA Health at Home and Access Rehab Centers, Greater Waterbury Imaging Center, offers comprehensive healthcare services including primary care, emergency and acute care, and home healthcare. Serving Waterbury and 11 surrounding communities in Western Connecticut, Waterbury HEALTH is a member of Prospect Medical Holdings, Inc., a national family of hospitals and healthcare networks.