Waterbury Hospital Among Top Ten Percent In The Nation For Cardiac Intervention And Five-Star Recipient For Treatment Of Heart Attack
FOR IMMEDIATE RELEASE For more information
January 20, 2022 Contact: Lauresha Xhihani
Lauresha.Xhihani@wtbyhosp.org,
203.573.6717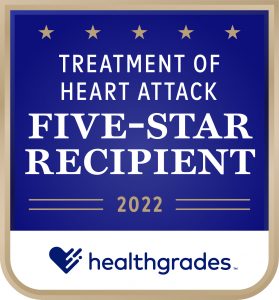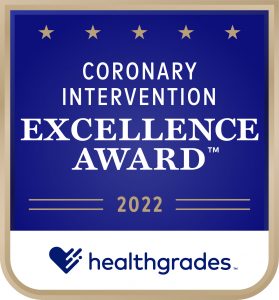 Waterbury Hospital Excels in Cardiac Intervention and Heart Attack Outcomes
Waterbury, Conn. Jan. 20, 2022 – Waterbury Hospital is the recipient of the Healthgrades 2022 Coronary Intervention Excellence Award™, among the top 10 percent of hospitals in the nation to receive this distinction, and a Five-Star Recipient for Treatment of Heart Attack in 2022, according to new research released by Healthgrades, the leading resource that connects consumers, physicians and health systems. Every year, Healthgrades evaluates hospital performance at nearly 4,500 hospitals nationwide for 31 of the most common inpatient procedures and conditions.*
This analysis shows that patients treated at hospitals receiving a 5-star rating have a lower risk of mortality and a lower risk of experiencing one or more complications during a hospital stay than if they were treated at hospitals receiving a 1-star rating in that procedure or condition. From 2018 through 2020, if all hospitals as a group performed similarly to hospitals receiving 5-stars as a group, on average, 218,141 lives could potentially have been saved, and complications in 156,050 patients could potentially have been avoided.*
"Consumers are increasingly becoming aware of the differences of care provided by different hospitals. Consumers can feel confident that hospitals receiving a Healthgrades 5-star rating have demonstrated exceptional outcomes and their ability to provide quality care," said Brad Bowman, MD, Chief Medical Officer and Head of Data Science at Healthgrades.
"Waterbury Hospital is distinguished for quality cardiac care year after year from prestigious organizations such as Healthgrades and American Heart Association for quality care and great outcome for cardiac patients. These awards recognize the hard work and continued focus on excellent patient care of our cardiac teams," said President and CEO Dr. Justin Lundbye.
Waterbury Hospital has received similar awards from Healthgrades consistently over the past several years including five stars for interventional procedures in 2021, the only hospital in New Haven County with this designation. In addition Waterbury Hospital was awarded Mission Lifeline Gold Award by the American Heart Association for treatment of patient who suffer a heart attack.
Waterbury HEALTH consistently invests in cardiac care adding new services and latest technology including the addition of transaortic valve replacement to its list of sophisticated cardiac care serves for patients in greater Waterbury in 2021 made possible with the addition of a state-of-the-art hybrid operating room with the most sophisticated technology available.
For its analysis, Healthgrades evaluated approximately 45 million Medicare inpatient records for nearly 4,500 short-term acute care hospitals nationwide to assess hospital performance in 31 common conditions and procedures and evaluated outcomes in appendectomy and bariatric surgery using all-payer data provided by 16 states. Healthgrades recognizes a hospital's quality achievements for cohort-specific performance, specialty area performance, and overall clinical quality. Individual procedure or condition cohorts are designated as 5-star (statistically significantly better than expected), 3-star (not statistically different from expected), and 1-star (statistically significantly worse than expected).
About Waterbury HEALTH
Waterbury HEALTH, which includes Waterbury Hospital, Alliance Medical Group, Cardiology Associates of Greater Waterbury, VNA Health at Home and Access Rehab Centers, Greater Waterbury Imaging Center, offers comprehensive healthcare services including primary care, emergency and acute care, and home healthcare. Serving Waterbury and 11 surrounding communities in Western Connecticut, Waterbury HEALTH is a member of Prospect Medical Holdings, Inc., a national family of hospitals and healthcare networks.
###
* Statistics are based on Healthgrades analysis of MedPAR data for years 2018 through 2020 and represent three-year estimates for Medicare patients only. For appendectomy and bariatric surgery, Healthgrades used inpatient data from 16 states that provide all-payer data for years 2017 through 2019. Due to the highly variable impact of the pandemic on hospital outcomes, Healthgrades made the decision to exclude cases with a COVID-19 diagnosis from the 2020 data in order to preserve the statistical integrity of our models and fairly evaluate clinical outcomes at all hospitals. To view the complete methodology, please visit: https://www.healthgrades.com/quality/ratings-awards/methodology