Waterbury Hospital Begins Pollen Count April 4
FOR IMMEDIATE RELEASE For more information
April 1, 2022 Contact: Lauresha Xhihani
203-573-6717
Lauresha.Xhihani@wtbyhosp.org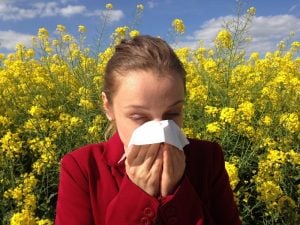 Daily count to continue through September
WATERBURY- Waterbury Hospital will begin its daily pollen count on April 4. The daily pollen count is performed by the Waterbury Hospital Hematology Laboratory and sponsored by the Center for Allergy, Asthma and Immunology. The data is made available to the public daily during the workweek, and the pollen count will run through September.
Waterbury Hospital has the only Pollen Count center in New England that is certified by the American Academy of Allergy, Asthma and Immunology's National Allergy Bureau. The pollen count report is compiled every weekday. Scientists from the Waterbury Hospital Hematology Laboratory collect and report pollen data on: trees, grass and weeds pollen and as well as mold spores. Measurements are per cubic meter.
To get the daily pollen report go here or on Twitter @waterburyhosp.
About Waterbury HEALTH
Waterbury HEALTH which includes Waterbury Hospital, Alliance Medical Group, Cardiology Associates, VNA Health at Home Greater Waterbury Imaging Center and Access Rehab Centers, offers comprehensive healthcare services including primary care, emergency and acute care, and home healthcare. Serving Waterbury and 11 surrounding communities in Western Connecticut, Waterbury HEALTH is a member of Prospect Medical Holdings Inc., a national family of hospitals and healthcare networks.