Our History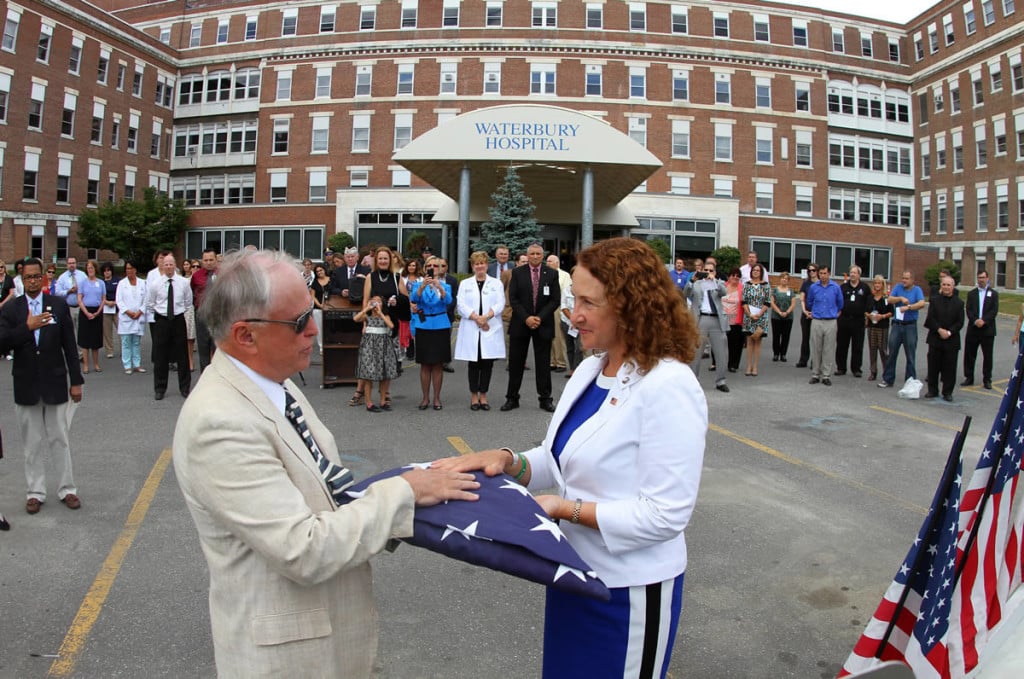 The year was 1883 and the City of Waterbury had a pressing need – a hospital.
For more than 125 years Waterbury Hospital has served the Greater Waterbury community, its history strongly connected to that of the Brass City.
A headline in The Republican, a weekly newspaper on Sept. 1, 1882, read Waterbury's Pressing Need – A Hospital. Months later, on March 14, 1883, Waterbury Hospital was granted a charter of incorporation.
It was through the generosity of the citizens of Greater Waterbury that the hospital could open.
1890. Through the generosity of A. S. Chase of Waterbury's Chase Family and Erastus L. DeForest of Watertown, Waterbury Hospital opened in the Wilson Home, with 30 beds. The first patient was received on January 28 and on February 26, the first surgical operation was performed on Patrick Fitzpatrick, a farm hand, whose eye had been gored by an ox. The hospital cared for a total of 85 patients during its first year.
1911. The main building of today's complex opened, housing 75 beds, and caring for 477 patients with an average length of stay of 22 days. At the time, only one of the original incorporators, Mr. James S. Elton was still alive. World War I tested the 75-bed hospital, taxing its capacity, claiming its staff, both doctors and nurses.
1919. The Peck Wing opened, the result of a tour during the hospital quarters on opening day in 1890. While on tour, Henry H. Peck, banker, merchant-prince, industrialist and philanthropist, noticed a sparsely furnished room, requested one of the original incorporators, to do "what was necessary" to have the room completed, and send him the bill. His generosity continued over the years.
1929. The opening of the North Wing. The hospital housed 310 beds, cared for over 5,000 patients, with an average length of stay of 11 days.
1951. Groundbreaking for the West Wing, completed in 1953.
1955. In August, the Hospital is faced with some of the horrors of the devastating Great Flood of Waterbury.
1969. The Hospital breaks ground for Pomeroy Pavilion, completed in 1972.
1983. Hospital President, Walter R. Griffin, Administrator Richard Derr, and Chief of Staff, John Beeble, M.D. turn first shovelful of earth in small groundbreaking ceremony to mark the start of a $3.6 million program to expand and renovate the ER, build separate entrances to the ER and Chase Outpatient Center and expand the laundry area.
1986. Renovated One-Day Surgery with Operating Theater Opened.
1987. Hospital adds landing pad for Medical Helicopter.
1990. Waterbury Hospital opens satellite offices for physicians in Naugatuck, Thomaston, and Southbury. A five-year capital campaign begins to raise money for $26.8 million renovation and modernization of several departments.
2001. Hospital opens Children's Center in its existing location.
2002. Reed Ambulatory Surgery Center opens.
2002. The Harold Leever Regional Cancer Center opens in collaboration with Saint Mary's Hospital.
2004. Alliance Medical Group opens at Middlebury Edge.
2005. Heart Center of Greater Waterbury opens in collaboration with Saint Mary's Hospital.
March 2011. Cardiology Associates of Greater Waterbury is formed.