Program Overview
Thanks for your interest in our General Surgery Residency Program at Waterbury Hospital.
Hear from our residents: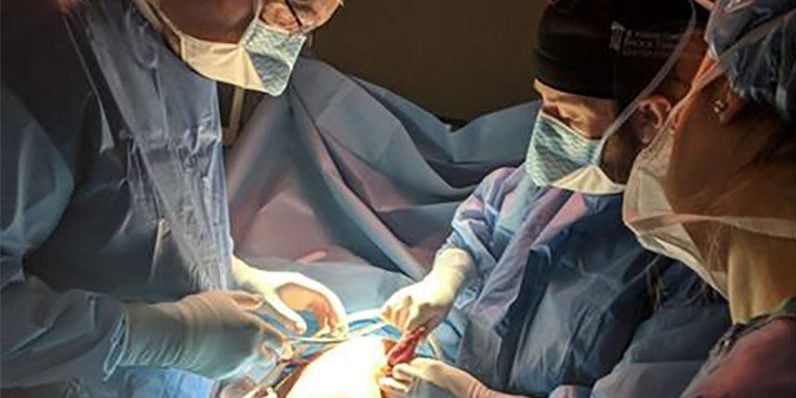 In December of 2018 the Quinnipiac University Frank H Netter MD School of Medicine was approved by the ACGME to become a Sponsoring Institution for residency programs. In the spring of 2019, our General Surgery residency as well as the Internal Medicine and Diagnostic Radiology residencies at St. Vincent's Medical Center became part of the Quinnipiac family. We now have access to all of the facilities of a major university and an established medical school.
Established in 1947, the General Surgery Residency Program at Waterbury Hospital is a small community-based program where residents and faculty interact daily on a professional and personal level. Our program is designed around resident education and the six ACGME competencies which form the framework for training and evaluation of our residents. The program has a longstanding tradition of excellence in patient care, teaching and service to the community. Residents are in the operating room from their first day on board. One of the main advantages of a small community program is our ability to provide individualized feedback and instruction to our residents. The faculty are committed to the program, patient care and resident education. Their daily interaction with the residents makes for a comfortable atmosphere which allows for an educational experience of personal, one-on-one instruction. This is truly the strength of our community based program.
Our weekly teaching conferences are held every Thursday with a focused curriculum that includes M&M conferences, Grand Rounds on a variety of surgical topics, How I Do It sessions, hands-on simulation sessions, diversity training, geriatrics/end of life, ethics, quality and safety education and Surgical Jeopardy. We adhere to a strict policy that our weekly teaching conferences are protected resident education time. Since the career goals of individual residents may differ, it is our goal to provide a general surgery experience that prepares residents for a productive and satisfying career in surgery. The success of each resident is very personal to us. We are very proud of the career paths and accomplishments of our graduates and the Waterbury Hospital "family" we have fostered.
HOW TO APPLY
2023/2024 Interview Dates
November 9, 2023 (Virtual)
December 14, 2023 (In-Person)
Program Criteria (US and Foreign Graduates)
USMLE 1 & 2 Scores 220 or above (must have passed on first attempt for both as well as the CSA)
COMLEX score for Step I & II (if available) – Passing on first attempt
J1 Visas Only
6 months to 1 year US clinical experience
Three letters of recommendation
Graduate of Medical School within the past 5 years
Verification of successful completion of any prior training
Deadline for Completed Applications: December 1, 2023
For more information, contact Deborah Cipriano at 203-573-7256 or deborah.cipriano@wtbyhosp.org